Proper 6C / Ordinary 11C / Pentecost +4
June 12, 2016
Please consider your sponsorship or support
of The Text This Week.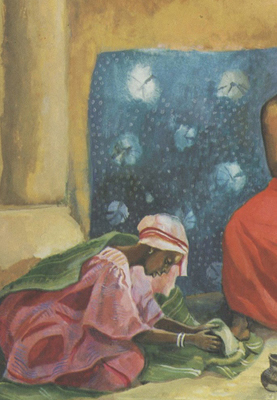 Image: Jesus MAFA, Camaroon, 1973.
Jesus Absolves the Penitent Sinner
from Art in the Christian Tradition,
a project of the Vanderbilt Divinity Library, Nashville, TN.
Do you use Textweek weekly?
Please consider your contribution.
Click on Scripture Lessons below for study links and resources:
1 Kings 21:1-10, (11-14), 15-21a or 2 Samuel 11:26 - 12:10, 13-15
Roman Catholic reading: 2 Samuel 12:7-10, 13
United Methodist reading: 1 Kings 21:1-21a
Psalm 5:1-8 or Psalm 32
Roman Catholic reading: Psalm 32:1-11
United Methodist reading: Psalm 5:1-8
Galatians 2:15-21
Roman Catholic reading: Galatians 2:16, 19-21
Luke 7:36 - 8:3
Roman Catholic reading: Luke 7:36 - 8:3 or Luke 7:36-50
Texts:
Images and Movies:

Images Linked at The Text This Week's Art Concordance, with the following themes:
Movies Linked at The Text This Week's Movie Concordance, with the following themes:

Commentary, Exegesis & Sermon Preparation (see also listings at individual scripture pages, linked in listings at top of page):
Recommended articles from ATLAS, an online collection of religion and theology journals, are linked below. ATLAS Access options are available for academic institutions, alumni of selected theological schools, and clergy/church offices. Annotated list of "starting place" articles at ATLAS for this week's texts (includes direct links).
Lectionary Reflections, Discussions & Weblogs:

Textweek Blog and Facebook Page: The Text This Week, lectionary discussion & suggested articles on Facebook.
Sermon Brainwave, Lectionary podcast featuring Profs. Rolf Jacobson, Karoline Lewis, and Matt Skinner, discussing the week's passages in light of current events. At Luther Seminary's WorkingPreacher.org. 2013.
Preaching Tip of the Week, Bob Eldan, preachingtip, 2016.
Pray As You Can, Reflections, commentary, prayer, poems, etc., Kym Harris, Diocese of Rockhampton, 2016.
Lectio Divina Podcast, Todd Spencer, 2016.
HuffPost Religion, religion news and contemporary news in religious perspective. Always worth a read...
Unfolding Light, Daily Reflections leading toward Sunday readings, Steve Garnaas-Holmes, 2016.
Break Open the Word, Michael T. Hiller, 2016.
One Little Word, David J. Risendal, 2016.
Hitchhiker's Guide to the Bible, Andy Doyle, Episcopal Diocese of Texas, 2016.
The River of Life, Loddon Mallee UCA Presbytery Blog, 2016.
Sunday's Child, Daily Lectionary and Reflections on Scripture and World, Una Malachica, 2016.
Weekly Reflections on the Christian Faith (lectionary texts), conversations between Mark Smith and David Owen, England Public School Chaplains. 2016
Kairos CoMotion Lectionary Dialogue, Wesley White, 2016.
Living the Lectionary, Daily RCL reflections, Pr. Phil Heinze, Fort Worth, TX, 2016.
The Preacher's Exchange - First Impressions and Homilias Domincales / Homilias Breves. Jude Siciliano, O.P., 2016.
SacraConversazione, discussion of the texts in terms of traditions of interpreters, from a postmodern perspective, 2016.
COSLC Grace Notes, Pastor Dan Bollerud, Christ Our Savior Lutheran Church, Anchorage, AK. Meditations & poetry, 2016.
Lectionary Scripture Notes, Dr. Norman Beck, 2016.
"The Woman on the Floor," Nancy Rockwell, The Bite in the Apple, 2013.
"Forgiveness and Gratitude," David Lose, Dear Working Preacher, 2013. 2010.
"Religious liberty for the Rest of Us," Anthony Hatcher, ON Scripture, Odyssey Networks, 2013.
"Glimmers of Hope: Prophetic Voices and Political Violence," Pentecost 4, Daniel B. Clendenin, The Journey with Jesus: Notes to Myself, Journey with Jesus Foundation, 2013. 2010. 2007.
"Ahab, Naboth and Jezebel," "Paul," "Nathan," sermon discussion from Frederick Buechner, Frederick Buechner Blog.
A Piece of Jesus' Mind, Alyce M. McKenzie, Edgy Exegesis, 2013.
What Goes 'Round...or Does It? John C Holbert, Opening the Old Testament, 2013.
"Big Love," Sharron Blezard, Stewardship of Life, 2013.
Lectionary Notes, Beth Quick, 2013.
Alabaster Jars of Joy, Rick Morley, 2013.
"Known by Service!" Thomas Beam, 2013.
Preacher's Study, John W.B. Hill, the Associated Parishes for Liturgy and Mission, 2013.
Kissing, Christopher Burkett, PreacherRhetorica, 2013.
"Responding to Jesus: A Child's Song, A Woman's Gift," Dr. Janet H. Hunt, Dancing with the Word, 2013.
The Silence of God, Peter Lockhart, a different heresy, 2013.
The Worship Closet, Amy Loving, 2013.
More Than a Prophet, Heather Carlson, Ekklesia Project, 2013.
"A Needful Extravagance," Jan Richardson, The Painted Prayerbook, 2013. (Use of images.)
Sacredise Worship Resources, 2013.
Liberal Lectionary Resources, Rev. Bryan Jackson and Rev. Dr. Mary Lautensleger, 2013.
"but that she wept," Suzanne Guthrie, Soulwork toward Sunday: At the Edge of the Enclosure, 2013.
"The Price of Wanting More," Beth Scibienski, A Thousand Years of Inspiration, 2013.
Rex Lex?, Steve Godfrey, Church in the World, 2013.
Celebrating the Discipleship of Leaders (at the end of the school year), Katie Munnik, Presbyterian Record, 2013.
"It's Raining Tears," Neil Chappell, a weird thing, 2013.
Preaching Tip of the Week, Bob Eldan, preachingtip, 2013.
Pulpit Fiction, podcast. Reflections of lectionary text, pop culture, current events, etc. Robb Mc Coy and Eric Fistler, 2013.
"Often Enough," Larry Patten, 2013.
"A Very Human Thing to Do," Steve Goodier, Life Support System, 2013.
"Taking Simon the Pharisee to School: Lectionary Reflections for Sunday," Alyce McKenzie, Patheos, 2010.
Evangelicals and Immigration Reform, Cross Examinations Group, Patheos, 2010.
Lectionary Blogging, John Petty, Progressive Involvement, 2010.
Wrath and Mercy, Law and Grace, Debra Dean Murphy, Intersections: Thoughts on Religion, Culture and Politics, 2010.
"Real Power," Mona West, David Wynn, Irene Monroe, Out in Scripture, Human Rights Campaign, 2010. (LGBT)
Gratitude, Melissa Bane Sevier, Contemplative Viewfinder, 2010.
What Does He Possibly See in Her? Peter Woods, I Am Listening, 2010.
Tuesday Lectionary Leanings, 2007, RevGalBlogPals lectionary discussion.
Dylan's Lectionary Blog, Proper 6C. Biblical Scholar Sarah Dylan Breuer looks at readings for the coming Sunday in the lectionary of the Episcopal Church, 2007.
The Saturday Night Theologian, Exegesis of Word and World, Tod O.L. Mundo, Progressive Theology Weblog, 2007.
The Christian Century:
Sojourners "Living the Word," archives:

"Pray and Act," Walter Brueggemann, "A Cast of Emancipated Characters," 2010.

Desperate Preacher's Site: sermons, discussions, liturgical material and other resources.

Sermons (see also listings at individual scripture pages, linked in listings at top of page):
Group Studies & Discussion/Reflection Questions:

"Scoundrels All Are We," Faith Element, 2013.
"Choose Justice," Weekly Seeds, UCC, 2013.
Bible Study, Proper 6C 2013, Ben Garren, Bexley Hall, Sermons that Work, Episcopal Digital Network.
Estudio de la Biblia. 4 Pentecostés, Propio 6 (C) por Ben Garren, Sermones que Iluminan, 2013.
Faith Lens, ELCA, on sabbatical until fall.
Proclaiming Faith, discussion, prayer, activities for primary grades, activities, 2013.

"The Prophet as Storyteller,"

study guide, Robert B. Kruschwitz, (other resources at) "Prophetic Ethics," Christian Reflection, The Center for Christian Ethics at Baylor University, 2003. (2 Samuel)
Light on the Lessons, Lutheran Bible Ministries. .doc file leaders guide and participant guide for group study of the weekly lectionary readings.

A list of links to on-line Bibles and general Bible study resources.
A list of links to scholarly and preaching discussion groups and their homepages.
A list of links to other lectionary-based preaching and worship resources.
The Text This Week's Pentecost Resources Page.
Complete Liturgies (including hymns & prayers):
Prayers, Prefaces, Litanies, etc:
Graphics and Multimedia (see also listings at individual scripture pages, linked in listings at top of page):
Hymns & Music:

Original Hymns, Settings, and Songs:
Psalm Settings:
Hymn/Song/Choral Piece Lists:

With Children (see also listings at individual scripture pages, linked in listings at top of page):
Children's Bulletins (see also listings at individual scripture pages, linked in listings at top of page)
Drama (see listings at individual scripture pages, linked in listings at top of page)
A list of links to other lectionary-based preaching and worship resources.