Proper 16C / Ordinary 21C / Pentecost +11

Please consider your sponsorship or support of The Text This Week.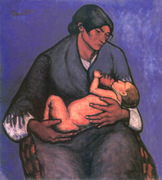 Image: Lajos Tihanyi, 1908
Gipsy Woman with Child
from Art in the Christian Tradition,
a project of the Vanderbilt Divinity Library, Nashville, TN.
Do you use Textweek weekly?
Please consider your contribution.
Click on Scripture Lessons below for study links and resources:
Jeremiah 1:4-10 or Isaiah 58:9b-14
Roman Catholic reading: Isaiah 66:18-21
United Methodist reading: Jeremiah 1:4-10
Psalm 71:1-6 or Psalm 103:1-8
Roman Catholic reading: Psalm 117:1-2
United Methodist reading: Psalm 71:1-6
Hebrews 12:18-29
Roman Catholic reading: Hebrews 12:5-7, 11-13
Luke 13:10-17
Roman Catholic reading: Luke 13:22-30

The Text This Week's Pentecost Resources Page.
Complete Liturgies (including hymns & prayers):
Prayers, Prefaces, Litanies, etc:
Graphics and Multimedia (see also listings at individual scripture pages, linked in listings at top of page):
Hymns & Music:

Original Hymns, Settings, and Songs:
Psalm Settings:

"The Lord Is My Refuge," (Psalm 71), "Bless the Lord, O My Soul," (Psalm 103), lyrics, midi, sheet music, mp3. Stephen J. Pearson, The Psalmistry. See Terms of Use.
Psalm Settings by Dale A. Schoening, Metrical Psalms: Psalm 71:1-6 set to Ein Feste Burg (87 87 66 66 7); Psalm 103:1-8 set to St. Thomas or Festal Song (SM).

Hymn/Song/Choral Piece Lists:

With Children (see also listings at individual scripture pages, linked in listings at top of page):
Children's Bulletins (see also listings at individual scripture pages, linked in listings at top of page)
Drama (see listings at individual scripture pages, linked in listings at top of page)
A list of links to other lectionary-based preaching and worship resources.