Proper 18A/Ordinary 23A/Pentecost +13
September 7, 2014
With thanks to page sponsor 2014:
Rev. Sandra Hedrick, Kirkwood Presbyterian Church, Jacksonvile, FL.
Stated Clerk, Presbytery of St. Augustine.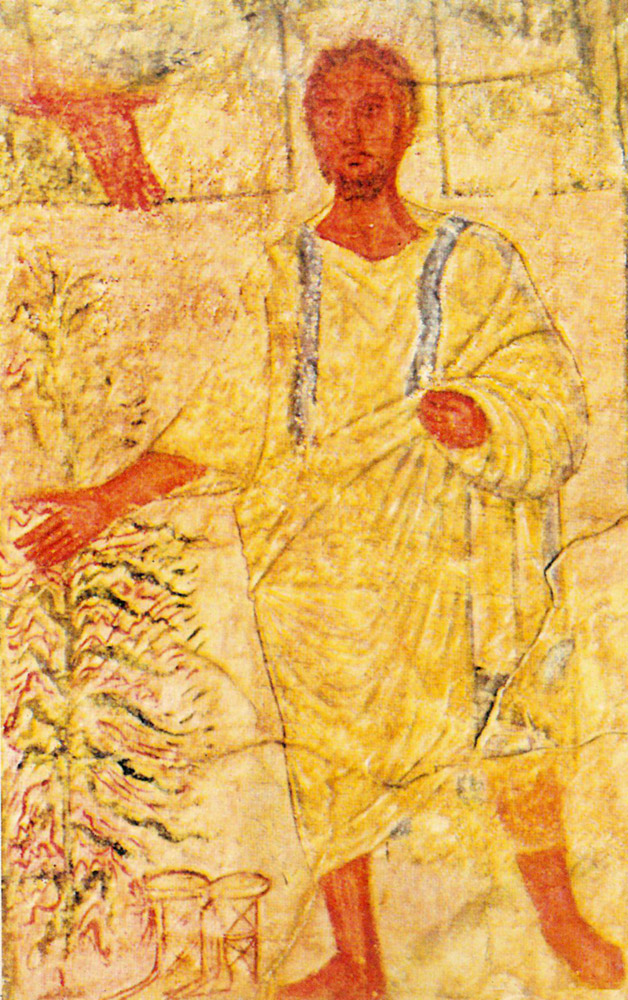 Image: Moses and the Burning Bush, from Art in the Christian Tradition,
a project of the Vanderbilt Divinity Library, Nashville, TN.
Please help support The Text This Week!
Click on Scripture Lessons below for study links
and resources for each individual pericope:
Exodus 12:1-14 or Ezekiel 33:7-11
Roman Catholic reading: Ezekiel 33:7-9
United Methodist & ELCIC reading: Exodus 12:1-14
Psalm 149 or Psalm 119:33-40
Roman Catholic reading: Psalm 95:1-9
United Methodist reading: Psalm 149 or Psalm 148
Romans 13:8-14
Roman Catholic reading: Romans 13:8-10
The Text This Week's Pentecost Resources Page contains resources and images.
Complete Liturgies and General Worship Planning Resources:
Prayers, Prefaces, Litanies, etc:
Graphics & Multimedia:

Art in the Christian Tradition, Jean and Alexander Heard, Vanderbilt Divinity Library. Creative Commons Attribution Noncommercial ShareAlike 3.0 License.
Clip Art, Ordinary 23, Fr. Richard Lonsdale, Resources for Catholic Educators.
Clip Art Images: Matthew 18:15-20, Misioneros Del Sagrado Corazón en el Perú.
Ordinary 23 at Cerezo Barredo's weekly gospel illustration. Follows Latin American Roman Catholic gospel reading, though most gospels texts/themes are found in the index. Liberation emphasis.
Bulletin Covers, www.scholia.net. Our Redeemer Lutheran Church, Emmett, Idaho. Scroll down for Year A index.
Mustard Seeds, "Our God of New Beginnings and Second Chances," Proper 18, 2014. A lectionary-based ideas resource for leaders of contemporary worship, Ann Scull, Gippsland, Australia.
"Relationships," Miriam's Tambourine, reflection, artwork, worship resources from Memphis Theological Seminary.
The Painted Prayerbook, "Blessing in the Shape of a Cross," Jan Richardson, 2011. Use of images.
"Insiders and Outsiders," Mark G. Vitalis Hoffman, Matthew 18:15-20, ON Scripture, 2011. Commentary and association with current news events, links and videos.
Agnus Day, Lectionary cartoon by James Wetzstein.
"Ear Plugs," video, John Stevens, Dollar Store Children's Sermons, 2014.
Jesus teaching that the church be a place of healing and reconciliation is beautifully illustrated in a Christmas Eve service where two estranged friends reconcile, the scene found in the Danish film TV film The Hunt. Ed McNulty, Visual Parables.
CHURCH PowerPoint, Rev. Dorothy Okray. Free PowerPoint slides for Worship Services, ChurchGalleries.com.
Faith Element, 2014.
Visual Theology, David Perry, 2014.

Hymns and Music:

Original Hymns, Settings, and Songs:

"Christ, You Teach Us of Your Kingdom" is an original hymn by Carolyn Winfrey Gillette that celebrates Jesus' teachings in Matthew 18, including on true greatness, the parable of the lost sheep and church discipline. Tune: W ZLOBIE LEZY 4.4.7.4.4.7.4.4.4.4.7 ("Infant Holy, Infant Lowly").
"Accountability," Brenton Prigge, NewHymn.

Psalm Settings:

"Sing Ye Believers," (Psalm 149), Psalm 119, lyrics, midi, sheet music, mp3. Stephen J. Pearson, The Psalmistry. See Terms of Use.
Psalm 149 set to CWM Rhondda (87 87 877), Psalm 119:33-40 set to Cleansing Fountain (CMD 86 86 D), by Dale A. Schoening, Metrical Psalms.

Hymn/Song/Choral Piece Lists:

Children's Bulletins (see also listings at individual scripture pages, linked in listings at top of page)
With Children (see also listings at individual scripture pages, linked in listings at top of page)
Drama (see listings at individual scripture pages, linked in listings at top of page)
A list of links to other lectionary-based preaching and worship resources.