Proper 22C / Ordinary 27C / Pentecost +20
October 6, 2013
World Communion Sunday
In honor of the 30th anniversary of Baptist Women in Ministry
by Rev. Anita Thompson,
Associate Pastor, First Baptist Church, Ahoskie, NC.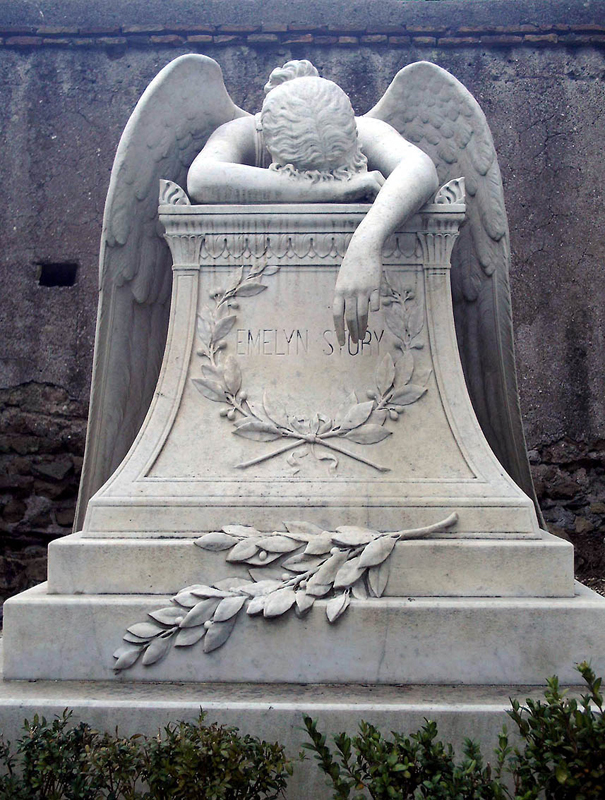 Click on Scripture Lessons below for study links and resources:
Image: William Wetmore Store, 1894
Angel of Grief,
from Art in the Christian Tradition,
a project of the Vanderbilt Divinity Library, Nashville, TN.
Lamentations 1:1-6; Lamentations 3:19-26 or Habakkuk 1:1-4; 2:1-4
Roman Catholic reading: Habakkuk 1:2-3; 2:2-4
United Methodist reading: Lamentations 1:1-6
Psalm 137 or Psalm 37:1-9
Roman Catholic reading: Psalm 95:1-9
United Methodist reading: Psalm 137
2 Timothy 1:1-14
Roman Catholic reading: 2 Timothy 1:6-8, 13-14
The Text This Week's Pentecost Resources Page.
Complete Liturgies (including hymns & prayers):
Prayers, Prefaces, Litanies, etc:
Graphics and Multimedia (see also listings at individual scripture pages, linked in listings at top of page):
Bulletin Inserts (see also Children's Bulletins, below):

Bulletin Insert, 20 Pentecost, Vida Dutton Scudder, Sarah Johnson, Episcopal Digital Network, 2013.
Inserto para el Boletín. 20 Pentecostés (C), Vida Dutton Scudder, por Sarah Johnson, Sermones que Iluminan, 2013.

Hymns & Music:

Original Hymns, Settings, and Songs:
Psalm Settings:

Psalm Settings by Dale A. Schoening, Metrical Psalms: Psalm 37:1-9 set to Canonbury (LM), Psalm 137, two settings.
"Trust in the Lord, Be Good," (Psalm 37) "Song of Exile," (Psalm 137) lyrics, midi, sheet music, mp3. Stephen J. Pearson, The Psalmistry. See Terms of Use.

Hymn/Song/Choral Piece Lists:

With Children (see also listings at individual scripture pages, linked in listings at top of page):
Children's Bulletins (see also listings at individual scripture pages, linked in listings at top of page)
Drama (see listings at individual scripture pages, linked in listings at top of page)
A list of links to other lectionary-based preaching and worship resources.