Proper 18C / Ordinary 23C / Pentecost +16
September 4, 2016
Please consider your sponsorship or support
of The Text This Week.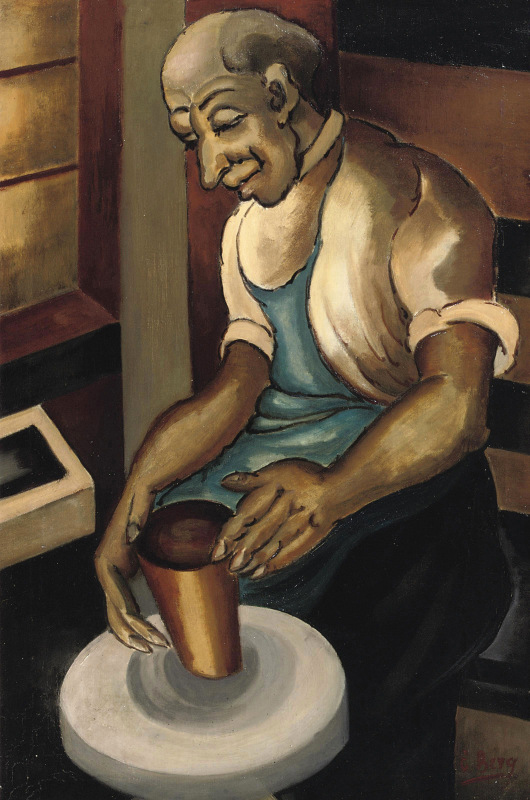 Image: Potter
Else Berg, 20th century
from Art in the Christian Tradition,
a project of the Vanderbilt Divinity Library, Nashville, TN.
Do you use Textweek weekly?
Please consider your contribution.
Click on Scripture Lessons below for study links and resources:
Jeremiah 18:1-11 or Deuteronomy 30:15-20
Roman Catholic reading: Wisdom 9:13-18
United Methodist reading: Jeremiah 18:1-11
Psalm 139:1-6, 13-18 or Psalm 1
Roman Catholic reading: Psalm 90:3-17
United Methodist reading: Psalm 139:1-6, 13-18
Philemon 1-21
Roman Catholic reading: Philemon 1:9-10, 12-17
Texts:
Images and Movies:

Images linked at The Text This Week's Art Concordance:
Movies listed at The Text This Week's Movie Concordance, with the following themes:

Commentary, Exegesis & Sermon Preparation (see also listings at individual scripture pages, linked in listings at top of page):

Comments (commentary) and Clippings (technical notes for in-depth study), Chris Haslam, Anglican Diocese of Montreal.
Girardian Reflections on the Lectionary, Proper 18, by Paul Nuechterlein & Friends.
Lexegete, Pentecost +15, David Buehler, Yr. Obt. Srvt., 2010.
Jesus Now, Proper (Ordinary) 23C. Lectionary, study and worship resources from Faith Futures Jesus Then & Now.
Readings, Analysis of Texts and Preaching Paths, Dennis Bratcher, Christian Resource Institute. (Church of the Nazarene.)
Text Studies, Proper 18, Diedrik Nelson. (Lutheran)

Recommended articles from ATLAS, an online collection of religion and theology journals, are linked below. ATLAS Access options are available for academic institutions, alumni of selected theological schools, and clergy/church offices. Annotated list of "starting place" articles at ATLAS for this week's texts (includes direct links).
Lectionary Reflections, Discussions & Weblogs:
Sermons (see also listings at individual scripture pages, linked in listings at top of page):
Group Studies & Discussion/Reflection Questions:
A list of links to on-line Bibles and general Bible study resources.
A list of links to scholarly and preaching discussion groups and their homepages.
A list of links to other lectionary-based preaching and worship resources.
The Text This Week's Pentecost Resources Page.
Complete Liturgies (including hymns & prayers):
Prayers, Prefaces, Litanies, etc:
Graphics and Multimedia (see also listings at individual scripture pages, linked in listings at top of page):
Hymns & Music:

Original Hymns, Settings, and Songs:
Psalm Settings:

"You Are There, You Are There," (Psalm 139), "Blessed Are They" (Psalm 1), lyrics, midi, sheet music, mp3. Stephen J. Pearson, The Psalmistry. See Terms of Use.
Psalm Settings by Dale A. Schoening, Metrical Psalms: Psalm 139:1-6, 13-18 set to Maryton (LM), Psalm 1 set to Mendelssohn (77 77 77 77 77).

Hymn/Song/Choral Piece Lists:

With Children (see also listings at individual scripture pages, linked in listings at top of page):
Children's Bulletins (see also listings at individual scripture pages, linked in listings at top of page)
Drama (see listings at individual scripture pages, linked in listings at top of page)
A list of links to other lectionary-based preaching and worship resources.