Proper 14C / Ordinary 19C / Pentecost +12
August 7, 2016
Please consider your sponsorship or support
of The Text This Week.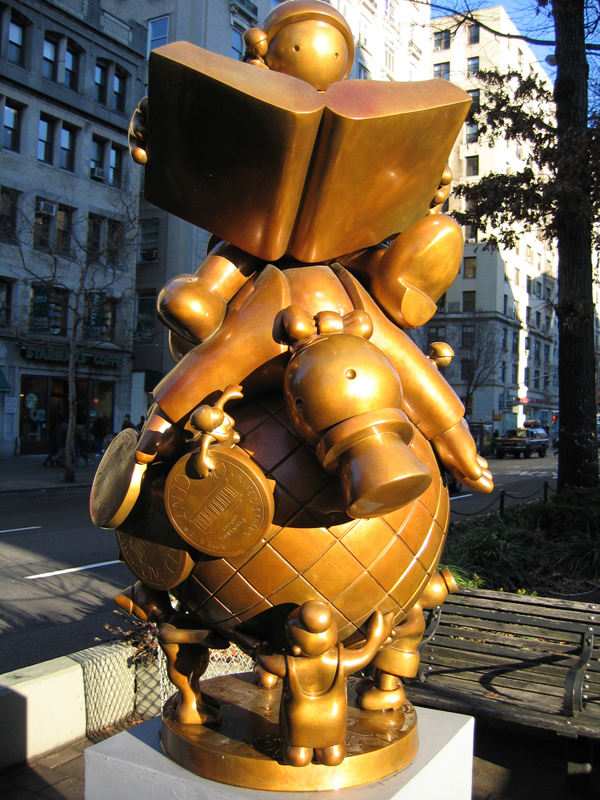 Image: Tom Otterness, 1997
Educating the Rich on the Globe,
from Art in the Christian Tradition,
a project of the Vanderbilt Divinity Library, Nashville, TN.
Do you use Textweek weekly?
Please consider your contribution.
Click on Scripture Lessons below for study links and resources:
Isaiah 1:1, 10-20 or Genesis 15:1-6
Roman Catholic reading: Wisdom 18:6-9
United Methodist reading: Isaiah 1:1, 10-20
Psalm 50:1-8, 22-23 or Psalm 33:12-22
Roman Catholic reading: Psalm 33:1-22
United Methodist reading: Psalm 50:1-8, 22-23
Hebrews 11:1-3, 8-16
Roman Catholic reading: Hebrews 11:1-2, 8-19 or Hebrews 11:1-2, 8-12
Luke 12:32-40
Roman Catholic reading: Luke 12:32-48 or Luke 12:35-40
Texts:
Images and Movies:

Images linked at The Text This Week's Art Concordance:
Movies listed at The Text This Week's Movie Concordance, with the following themes:

Commentary, Exegesis & Sermon Preparation (see also listings at individual scripture pages, linked in listings at top of page):
Recommended articles from ATLAS, an online collection of religion and theology journals, are linked below. ATLAS Access options are available for academic institutions, alumni of selected theological schools, and clergy/church offices. Annotated list of "starting place" articles at ATLAS for this week's texts (includes direct links).
Lectionary Reflections, Discussions & Weblogs:

Textweek Blog and Facebook Page: The Text This Week, lectionary discussion & suggested articles on Facebook.
Sermon Brainwave, Lectionary podcast featuring Profs. Karoline Lewis, and Matt Skinner, discussing the week's passages in light of current events. At Luther Seminary's WorkingPreacher.org. 2013.
Preaching Tip of the Week, Bob Eldan, preachingtip, 2016.
Pray As You Can, Reflections, commentary, prayer, poems, etc., Kym Harris, Diocese of Rockhampton, 2016.
Lectio Divina Podcast, Todd Spencer, 2016.
HuffPost Religion, religion news and contemporary news in religious perspective. Always worth a read...
Unfolding Light, Daily Reflections leading toward Sunday readings, Steve Garnaas-Holmes, 2016.
Break Open the Word, Michael T. Hiller, 2016.
One Little Word, David J. Risendal, 2016.
Hitchhiker's Guide to the Bible, Andy Doyle, Episcopal Diocese of Texas, 2016.
The River of Life, Loddon Mallee UCA Presbytery Blog, 2016.
Sunday's Child, Daily Lectionary and Reflections on Scripture and World, Una Malachica, 2016.
Weekly Reflections on the Christian Faith (lectionary texts), conversations between Mark Smith and David Owen, England Public School Chaplains. 2016
Kairos CoMotion Lectionary Dialogue, Wesley White, 2016.
Living the Lectionary, Daily RCL reflections, Pr. Phil Heinze, Fort Worth, TX, 2016.
The Preacher's Exchange - First Impressions and Homilias Domincales / Homilias Breves. Jude Siciliano, O.P., 2016.
SacraConversazione, discussion of the texts in terms of traditions of interpreters, from a postmodern perspective, 2016.
COSLC Grace Notes, Pastor Dan Bollerud, Christ Our Savior Lutheran Church, Anchorage, AK. Meditations & poetry, 2016.
Lectionary Scripture Notes, Dr. Norman Beck, 2016.
"The Social Shape of Divine Generosity," Greg Carey, ON Scripture, Odyssey Networks, 2013.
"The Heart of the Matter," David Lose, Dear Working Preacher, 2013. 2010.
"Treasure in Heaven," Nancy Rockwell, The Bite in the Apple, 2013.
"Imitating Abraham: Strangers in a Strange Land," Pentecost 12, Daniel B. Clendenin, The Journey with Jesus: Notes to Myself, Journey with Jesus Foundation, 2013. 2010. 2007.
"Visions in the Daytime," John C. Holbert, Opening the Old Testament, 2013.
"Just Beyond Our Grasp," sermon discussion from Frederick Buechner, Frederick Buechner Blog.
"Mise en Place," Alyce M. McKenzie, Edgy Exegesis, 2013.
"Now Is the Moment," Christopher Burkett, Preacher Rhetorica, 2013.
"Count the Stars," Michael Coffey, 2013.
"From Fear to Faith to Freedom," Sharron R. Blezard, Stewardship of Life, 2013. 2010.
"Portfolio Review," Steve Godfrey, Church in the World, 2013.
"Selling Out for Jesus," Fr. Rick Morley, 2013.
Lectionary Ruminations, John Edward Harris, Summit to Shore, 2013.
Sacredise Worship Resources, 2013.
Preacher's Study, Frank Logue, the Associated Parishes for Liturgy and Mission, 2013.
"Sacrifice," Jim McCoy, Ekklesia Project, 2013.
"Abraham the Gypsy," Beth Scibienski, A Thousand Words of Inspiration, 2013.
"The Politics of Scripture: Luke 12:32-40," MaryAnn McKibben Dana, Political Theology, 2013.
"Old Faithful and the Waiting Slaves," Janet Hunt, Dancing with the Word, 2013.
"Waiting but not watching the clock," Katie Munnik, Presbyterian Record, 2013.
"Seeking a Better Country," Peter Lockhart, A Different Heresy, 2013.
"Where There's Smoke," Linda Fabian Pepe, Theological Stew, 2013.
"Freedom from Fear is Freedom to Act," Robert Saler, Care for Creation Commentary, Lutherans Restoring Creation, 2013.
The Worship Closet, Amy Loving, 2013.
"Fear not..." Thomas Beam, 2013.
Lectionary Reflections, Bread for the World, August, 2013.
#fulcrumsermonthoughts, John Watson, sermon thoughts for everyday discipleship, 2013.
Lectionary Notes, Beth Quick, 2013.
Preaching Tip of the Week, Bob Eldan, preachingtip, 2013.
"Do All the Good You Can," Steve Goodier, Life Support System, 2013.
"Ready Or Not, Here I Come!" Cathy Lessmann, Crossings, 2013.
"Can We Get a Grown-Up View of Faith?" Bruce Maples, 2013.
"Learn to Do Good," Larry Patten, 2013.
"Where Is Your Treasure?" Todd Weir, bloomingcactus, 2010.
Lectionary Blogging, John Petty, Luke 12:32-40, Progressive Involvement, 2010.
"Break Open the Word," Proper 14, Michael T. Hiller, 2010.
"Abandonment and Responsibility," Bruce Epperly, Patheos, 2010.
"What Are You Afraid Of?" Debra Dean Murphy, The Ekklesia Project, 2010.
"Why are we delaying the party?" Peter Woods, I Am Listening..., 2010.
Peace, Walls, and Fractured-Faith Forecasting, Rev. Sharron R. Lucas, the Stewardship of Life Institute, 2010.
"Leave the Light On," Melissa Bane Sevier, Contemplative Viewfinder, 2010.
Dylan's Lectionary Blog, Proper 14C. Biblical Scholar Sarah Dylan Breuer looks at readings for the coming Sunday in the lectionary of the Episcopal Church.
The Saturday Night Theologian, Exegesis of Word and World, Tod O.L. Mundo, Progressive Theology Weblog, 2007.
The Christian Century:
Sojourners "Living the Word," archives:

"Alert to the Good News," Walter Brueggemann, "The 'Low Holy Days' of Summer," 2010.
"Distorted Christianity," Malinda Elizabeth Berry, "Living in the Presence of God," 2007.
"Trust God's Holy Name," Michaela Bruzzese, "A Great Cloud of Witnesses," 2004.
"Extraordinary Faith," Michaela Bruzzese, "Common Like Bread," 2001.

Desperate Preacher's Site: sermons, discussions, liturgical material and other resources.
Sunday by Sunday, Reflections on Stewardship based on the RCL Gospels, Year C. Prepared by the Reverend Michael Pollesel, Stewardship Education Coordinator, Diocese of Ontario.

Sermons (see also listings at individual scripture pages, linked in listings at top of page):

Ministry Matters, 2016.
Göttinger Predigten im Internet: Every Sunday Sermons based on the RCL by a team of Lutheran theologians/ pastors, 2016.
"Beyond material worth," the Rev. Ben E. Helmer, Sermons that Work, Episcopal Digital Network, 2013.
12 Pentecostés, Propio 14 (C) – 2013 por el Rvdo. Antonio Brito, Sermones que Iluminan.
"Just Beyond Our Grasp," sermon discussion from Frederick Buechner, Frederick Buechner Blog.
"The Thief Is at Your Door," Alyce McKenzie, Patheos, 2010.
"When Trouble Comes," the Rev. Dr. Charles Reeb, Day 1, 2010.
"Wishful Thinking, Optimism and Hope," the Rev. Dr. Michael Foss, Day 1, 2007.

Group Studies & Discussion/Reflection Questions:
A list of links to on-line Bibles and general Bible study resources.
A list of links to scholarly and preaching discussion groups and their homepages.
A list of links to other lectionary-based preaching and worship resources.
The Text This Week's Pentecost Resources Page.
Complete Liturgies (including hymns & prayers):
Prayers, Prefaces, Litanies, etc:
Graphics and Multimedia (see also listings at individual scripture pages, linked in listings at top of page):
Hymns & Music:

Original Hymns, Settings, and Songs:
Psalm Settings:

Psalm 50:1-8, 22-23 set to St George's Windsor (77 77 D), Psalm 33:12-22 set to St. Anne (CM), Psalm Settings by Dale A. Schoening, Metrical Psalms.
"Hear, Hear the Teaching of the Lord," (Psalm 50), "Give Glory to the Lord Your God," (Psalm 33), lyrics, midi, sheet music, mp3. Stephen J. Pearson, The Psalmistry. See Terms of Use.

Hymn/Song/Choral Piece Lists:

With Children (see also listings at individual scripture pages, linked in listings at top of page):
Children's Bulletins (see also listings at individual scripture pages, linked in listings at top of page)
Drama (see listings at individual scripture pages, linked in listings at top of page)

Mustard Seeds, "Faith," Proper 14 / Ordinary 19 / Pentecost 12, 2013. A lectionary-based ideas resource for leaders of contemporary worship, Ann Scull, Gippsland, Australia.

A list of links to other lectionary-based preaching and worship resources.