Proper 17B/Ordinary 22B/Pentecost 14
September 2, 2012
DO YOU USE THIS WEBSITE WEEKLY?
Please consider your sponsorship or support
of The Text This Week.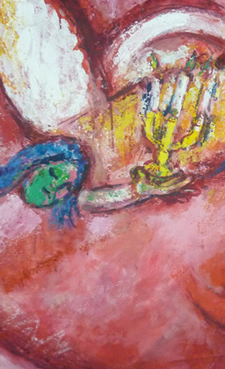 Image: Chagall, Marc, 1887-1985. Le Cantique des cantiques III (detail), .
from Art in the Christian Tradition,
a project of the Vanderbilt Divinity Library, Nashville, TN.
Click on Scripture Lessons below for study links and resources:
Song of Solomon 2:8-13 or Deuteronomy 4:1-2, 6-9
Roman Catholic reading: Deuteronomy 4:1-2, 6-8
United Methodist reading: Song of Solomon 2:8-13
Psalm 45:1-2, 6-9 or Psalm 15
Roman Catholic reading: Psalm 15:2-5
Episcopal reading (RCL): Psalm 45:1-2, 7-10 or Psalm 15
United Methodist reading: Psalm 45:1-2, 6-9 or Psalm 72
James 1:17-27
Roman Catholic reading: James 1:17-18, 21-22, 27
Reading and Studying the Text This Week
The Text This Week's Pentecost Resources Page.
Complete Liturgies and General Worship Planning Resources:
Prayers, Prefaces, Litanies, etc:
Graphics and Multimedia (see also listings at individual scripture pages, linked in listings at top of page):
Bulletin Inserts (see also Children's Bulletins, below):

"The Praxis of God's Laws," reflection by Scott S. Elliott, eBulletins reflections, prayer reminders, activity corner, American Bible Society Bible Resource Center (.pdf).

Hymns and Music:

Original Hymns, Settings, and Songs:
Psalm Settings:

Psalm 45, Nadia Bolz-Weber, The Emergent Psalter, 2009.
"Your Throne, O God, Is Forever," (Psalm 45), "Lord, Who May Dwell in Your Sanctuary?" (Psalm 15), lyrics, midi, sheet music, mp3. Stephen J. Pearson, The Psalmistry. See Terms of Use.
Psalm 45:1-2, 6-9 set to St Catherine (88 88 88), Psalm 15 set to The Solid Rock (88 88 888), Psalm Settings by Dale A. Schoening, Metrical Psalms

Hymn/Song/Choral Piece Lists:

With Children (see also listings at individual scripture pages, linked in listings at top of page):
Children's Bulletins (see also listings at individual scripture pages, linked in listings at top of page)
Drama (see listings at individual scripture pages, linked in listings at top of page)
A list of links to other lectionary-based preaching and worship resources.