Christ the King/Reign of Christ A
November 23, 2014
Please consider your sponsorship or support
of The Text This Week.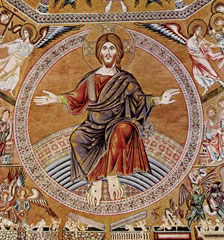 Image: Christ in Judgment,
Art in the Christian Tradition
Vanderbilt Divinity Library
Click on Scripture Lessons below for study links
and resources for each individual pericope:
Ezekiel 34:11-16, 20-24
Roman Catholic reading: Ezekiel 34:11-12, 15-17
Psalm 100 or Psalm 95:1-7a
Roman Catholic reading: Psalm 23:1-6
United Methodist reading: Psalm 100
Ephesians 1:15-23
Roman Catholic reading: 1 Corinthians 15:20-26, 28

Matthew 25:31-46
Texts:
Images and Movies:

Images linked at The Text This Week's Art Concordance:
Movies/scenes listed at The Text This Week's Movie Concordance:

Commentary, Exegesis & Sermon Preparation (see also listings at individual scripture pages, linked in listings at top of page):
Recommended articles from ATLAS, an online collection of religion and theology journals, are linked below. ATLAS Access options are available for academic institutions, alumni of selected theological schools, and clergy/church offices. Annotated list of "starting place" articles at ATLAS for this week's texts (includes direct links).
Lectionary Reflections, Discussions & Weblogs:
Sermons (see also listings at individual scripture pages, linked in listings at top of page)

Ministry Matters, November 23, 2014.
Göttinger Predigten im Internet: Every Sunday Sermons based on the RCL by a team of Lutheran theologians/ pastors, 2014.
"If Christ Is King, What Does That Mean?" Greg Garrett, Day 1, 2011.
Christ the King Sermons, Edward F. Markquart, Sermons from Seattle.
"Heaven's Audit of One's Soul," the Rev. Dr. Wiley Stephens, Day 1, 2008.

Group Studies & Discussion/Reflection Questions:
A list of links to on-line Bibles and general Bible study resources.
A list of links to scholarly and preaching discussion groups and their homepages.
A list of links to other lectionary-based preaching and worship resources.
The Text This Week's Pentecost Resources Page contains resources and images. (Includes a number of images of Christ as King, Glorified Christ, etc)
Complete Liturgies and General Worship Planning Resources:
Prayers, Prefaces, Litanies, etc:
Graphics & Multimedia:
Bulletin Inserts (see also Children's Bulletins, below):
Hymns and Music:

Original Hymns, Settings, and Songs:
Psalm Settings:

"The Sheep of Your Lands," (Psalm 100), "Let Us Praise the Rock of Our Salvation," (Psalm 95) lyrics, midi, sheet music, mp3. Stephen J. Pearson, The Psalmistry. See Terms of Use.
Psalm 100 set to Laudes Domini (666.666), Psalm 95:1-7a set to He Leadeth Me (88 88 D), by Dale A. Schoening, Metrical Psalms.

Hymn/Song/Choral Piece Lists:

Hymn and Song Suggestions, Reign of Christ/Christ the King, 2013, annotated suggestions from Natalie Sims, Singing from the Lectionary.
Lectionary Hymns, Reign of Christ, UMC GBOD.
Hymn selections (United Methodist) and more from Hymnsite.com.
Hymn Suggestions for the Sunday Lectionary (with lyrics and sound files) from the Oremus Hymnal. (Click "Hymn Suggestions for the Sunday Lectionary.")
The Billabong, by Rev Jeff Shrowder, Uniting Church in Australia: Hymn suggestions and paraphrases of lectionary Psalms.
Liturgical Planning and Music Suggestions, CanticaNova Publications.
Hymnary.org, hymns, scores, media, information.
Sing for Joy, Pentecost 28A, 2008. Choral reflections on this week's lectionary readings, St. Olaf College.
Board of Discipleship, 2011.

Children's Bulletins (see also listings at individual scripture pages, linked in listings at top of page):

CatholicMom.com: Coloring Page, Mass Worksheet, Crossword Puzzle, and Word Search based on weekly gospel text.
Coloring Pages/Puzzles. Charles Kirkpatrick, Object Lessons & Children's Sermons, Coloring Pages, Puzzles. Sermons4Kids.com. (Scroll to bottom of page.)
Lectionary Puzzles, Christ the King. Word search puzzles in RTF or plain text, by Reg McMillan, St.Stephen's Presbyterian Church, Peterborough, Ontario.
Christ the King Wordsearch, Charles Kirkpatrick, sermons4kids.com.

With Children (see also listings at individual scripture pages, linked in listings at top of page)
Drama (see listings at individual scripture pages, linked in listings at top of page)
A list of links to other lectionary-based preaching and worship resources.