AN ADVENT STORY
Advent, 2002
As many of you know, my son has autism. He is 10 years old and is severely handicapped by his disability. Our family learned to slow down at Christmas a number of years ago when he was unable to tolerate *any* of the celebration. He could not handle the changing scenarios - the twinkling lights, the changes in grocery store displays, the changes in the sanctuary at church, presents appearing under the tree, the tree ITSELF, and the moved furniture. He would fall on the floor and scream, unable to move, afraid to open his eyes, almost constantly from Thanksgiving until well after Christmas when it was all over. We carried him through that time his head covered with his coat so we could get through the grocery store, or sat with him huddled in his room, carefully ordered EXACTLY the same since summer, with no Christmas trappings.
Of course our neighbor across the street was one of those folks who bought every new outdoor Christmas display. My son slept on the sofa in the living room for two Decembers, trying to stay awake so he could make sure that all of the lights across the street (on the whole block!) were functioning correctly. If one went out, or if the lights came on or turned off outside the proper times, he would scream and cry in panic until it was fixed. (I spent an hour one cold night on top of a neighbor's garage, replacing ONE BULB in a Santa display so the boy would stop screaming and sleep!)
Worship on Christmas Eve or Christmas Day was over-crowded and yet hushed, not a good combination for an autistic child. Christmas celebrations at home were a nightmare. Phil would scream and cry as each package was moved and (gasp!) unwrapped. As frightened as he was when each new thing appeared, he was equally frightened when it changed or disappeared. We'd try to find him a present he'd enjoy, but he'd merely scream and cry in panic at the intrusion on his carefully ordered world, and the gifts would sit ignored until he outgrew them and we gave them to some little boy who could appreciate them.
He wanted nothing. He would look straight at toys we thought he would like, and he would not react at all. He asked for nothing. He anticipated nothing. He just screamed and cried at all of it. It is no bliss to have a child who doesn't get it - who doesn't want anything and doesn't want to have anything to do with Christmas commercialism - or it is only bliss in some romantic fantasy. In real life it is a surreal nightmare.
This year, right around Thanksgiving, we once more asked the kids what they wanted for Christmas. Our 14-year-old daughter sat down and made out her list. And our 10-year old son, for the first time in his life, answered the question. "PlayStation 2," he said. "I want PlayStation 2 Christmas." We just about fell over. His sister gave him a piece of paper. She wrote "Phil's Christmas List" at the top. He wrote, "PLAYSTATION TOW" under her heading. "At Sam's," he said. "Go to car."
So, we drove to Sam's. He has never looked at anything there, never seemed to notice that Sam's has anything he might want. But he led us right to the PlayStation 2 sets, picked out the bundle he wanted and put it in the cart. "Open at Christmas," he said. He watched gleefully as we wrapped the package, and then he solemnly placed it under the tree. So, a PlayStation 2 game set sits there, wrapped, with his name on it, and he waits to open it. "December 25," he says. "Open PlayStation 2 December 25."
Last night we'd returned from yet another Christmas rehearsal with our daughter, Phil found a Best Buy ad in the paper and turned immediately to the PlayStation games. He circled "Harry Potter" and "John Madden Football", handed the ad to Bob, and said, "I want Christmas." There were tears in my eyes. It's such a small thing, but such a truly amazing thing. It's one more bit of hope that he will be able to function in some semblance of society as an adult one day - that he might be able to live just a BIT more independently, and one day want the things he needs to survive enough to work for them. (Not a foregone conclusion with autistic folks, which makes them particularly unemployable, no matter their intelligence.) Consumerism might be "the enemy", but a kid who understands none of it is only a hero in a Chicken Soup For The Soul story.
This Advent season I am grateful for being able to appreciate what complexity and miracle is involved in such small "selfish" acts as wanting something for Christmas and expressing those wants to another person. I'm grateful that my son is able to enjoy some of the commercial cultural trappings of the holiday this year instead of running from them screaming. I'm grateful for the many ways Phil helps me stop and look again, even at my most "Christian" conclusions. And I'm especially grateful that my son helps me see Christ's humble birth, over and over again, even in the midst of nightmares and worries I could not have imagined 10 years ago, even in the midst of Advent.
Jenee
Jenee Woodard
http://www.textweek.com
jeneewd (usual) comcast (usual) net
2015 Update: Phil is employed half-time by the Intermediate School District of Jackson Michigan as a Technical Assistant at the Information Technology Help Desk.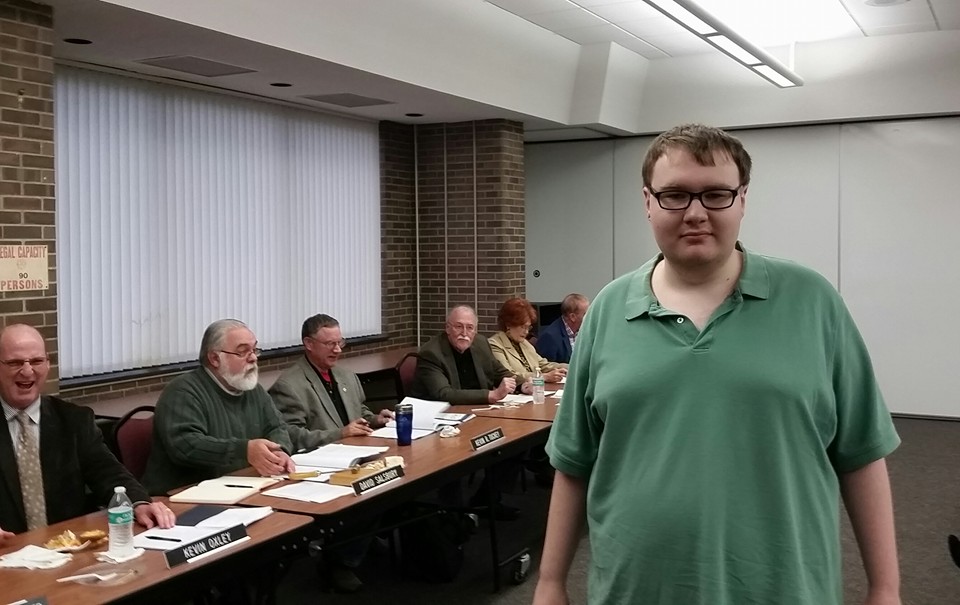 2013 Update: Phil's video resume
2011 Update on Phil: http://www.mlive.com/news/jackson/index.ssf/2010/12/post_52.html
2008 Update: A current video and news story from Michigan State News about my son.